DaWife is on a conference trip in Amsterdam, which means that I've spent most of my weekend trying to track down a ticket for the sold out show at Paradiso. After browsing through at least a couple dozen Dutch websites (interesting language

, thank god for Google translator!), I finally found a guy selling his ticket and willing to deliver it to the venue.
Got a txt message from her saying she got the ticket in time and was inside the venue!! Sad not to be able to attend myself but happy that she is. I asked her to take pics, hopefully get them tomorrow and maybe upload some (if they're any good, her mobile's cam isn't that great).
Edit: Unfortunately only bad pics, she was on the balcony and way too dark. But a truly great gig in her opinion! She recalls at least The Sky Lit Up, The River, Pocket Knife, C'mon Billy and in the encore Big Exit, Angeline and Silence played in addition to LES songs.
I'm sure somebody will post decent photos from the gig.
Edit2: Sorry, I could'nt resist

This is exactly why I think most mobile phone cameras are practically useless: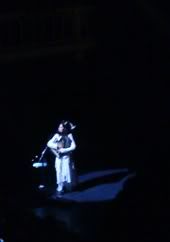 ...Nevermind. I got me a LES t-shirt and a bottle of very good Laphroaig as thanks for finding her the ticket