Prior to this album and current tour for The Hope Six Demolition Project, I had always been a bit curious about the photos (below). Taken when PJ was doing Desert Sessions out in the California desert around 2003, invited by Josh Homme back when both were touring the same festivals around the Stories tour.
It was a self-described challenging situation for her; a shy person working in a more improvisational way with a bunch of somewhat unfamiliar people and without her full artistic control. In one of the few photos which include PJ to come out of those sessions, we see PJ with her arms around a couple people at a dinner table setting. Unfamiliar to probably most of us at the time, one of those two was Alain Johannes. Suggesting at the time that he was at least one of the people she was able to forge a bond with during that unique short-term living and recording situation.
Of course, we now know that the relationship was indeed strong enough to be maintained even long afterwards since he contributed a bit to the current album and is now a member of her touring band more than a decade and a half since those Desert Sessions took place.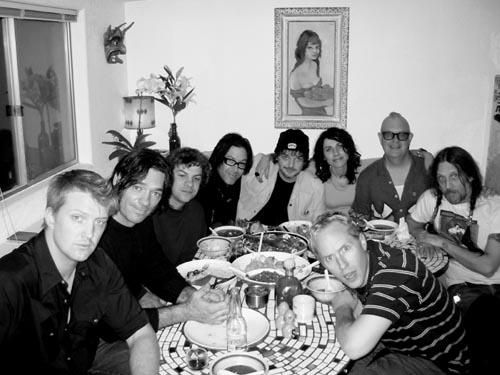 And for those who are probably as unfamiliar as I with Alain's voice given that he is almost always part of the male group singing ensemble for this tour, here is an old performance from late night American TV, playing on Conan O'Brien:
http://www.youtube.com/watch?v=x63aC_0Uy_w
Note that the blond keyboardist/singer is Natasha Shneider, who had since died and for whom this Desert Sessions memorial concert was performed back in 2008 (Alain standing near PJ):
http://www.youtube.com/watch?v=bUEp8jAtNso